It was a early 3am morning that we headed for the Detroit International Airport. A long 4 hour drive, by the time we crossed the border. We were told, be there 3 hours before flight time, and I wasn't about to start out our vacation late. Everything went smoothly, touch down Cancun, Mexico.
Bestday Shuttle, was there to pick us up and drive us straight to the Grand Puerto Ferry dock. "Two tickets to Isla Mujeres, one way, please". Hand over $70 peso ($7 bucks) and we are on our way.
Well almost….. the longest line I have ever seen was waiting ahead of us. Two ferries worth of passengers ahead, to be exact. Oh well! the weather was pretty warm and we already had changed into summer attire. Slow down, we have 3 ½ weeks.
We landed on Isla around 3pm and went straight to our accommodations at Chac Chi located down in the Colonia's.
Chac-Chi, has done some extensive work in a year, adding several new rooms, an office, bar, and pool. All rooms have internet hookup, if any one was to bring a laptop.
The rooms are big with fully furnished kitchenette, bedroom w/TV, fans & air-conditioning. Bathroom, shower, and lots of hot water. There is a balcony, to sit out on, plus, some of the nicest staff, you will find anywhere.
The only lacking item…is surf and sand. But for $40 bucks a night we can take a bus to North Beach.
Picture of Chac Chi,.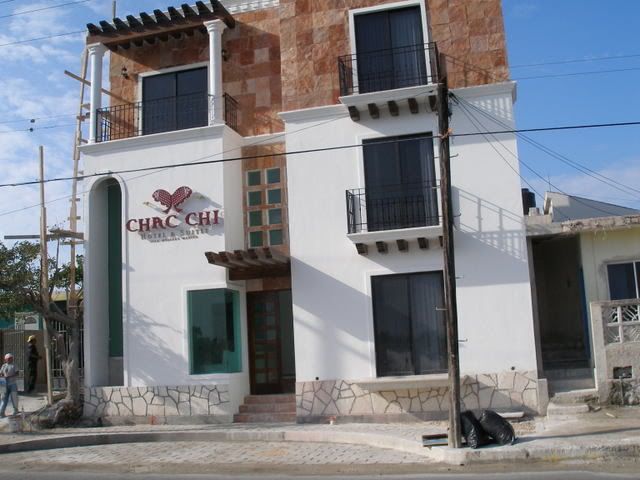 Kitchen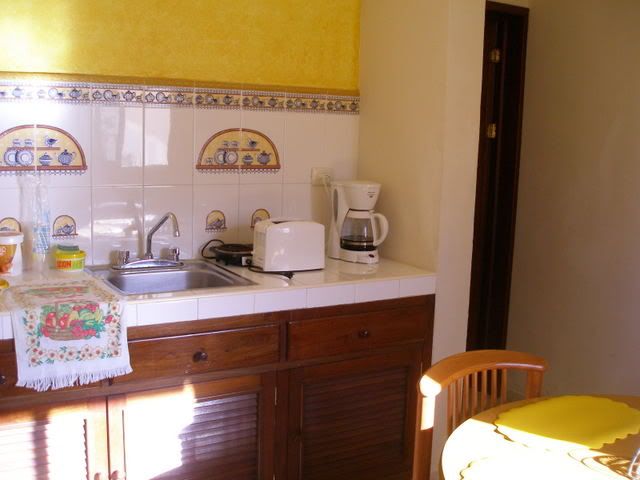 Pool area, not big but will cool off any hot flashes.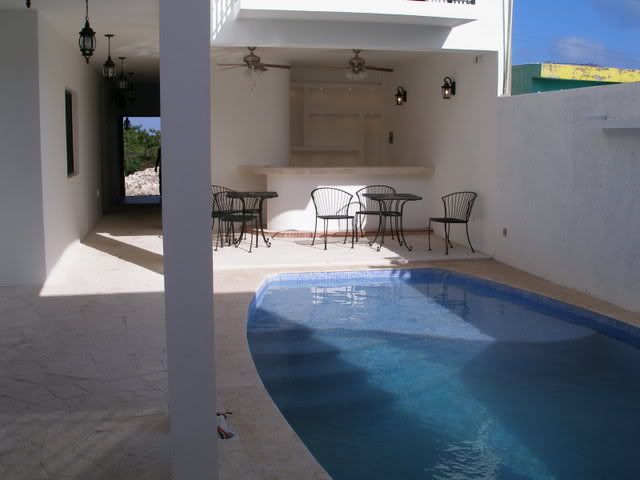 We chose to spend most of our time investigating and walking the Colonia's.
Salina Grande (a wonderful walkway that is not utilized), ate barbecue chicken from the friendly locals, or had $5 buck pizza's, or 9 peso taco's?
It was our first time to spend time amongst the locals.
Salina Grande walkway.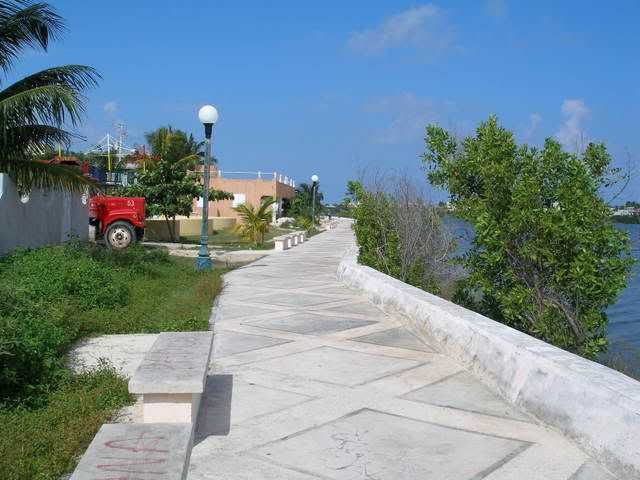 The chicken cooks, they gladly posed for pictures.
Suppers most nights was a walk to town, until the Good Woman's feet blistered so badly we had to resort to bus or taxi. Crocs didn't even help. Finally, bought some soft material sandals to add to her collection. She looked like a patch quilt doll with all the band-aids.
Our first nights supper was at a place we had never tried before….Albachiaria Ristorante Italiano. My wife loves pasta but she wasn't impressed, neither was I. Those draft beers were just too damn small for the price. ($20 pesos) .
Of course, we needed a trip to the Super Express and Mirita's grocery store for supplies. Since we were too far from town, the first week's breakfast, would be enjoyed in our room. But! We were burning up the roads and where else can you enjoy your feet in the sand but at Playa Lanchero's. Tix n Xic were exceptionally good, not dried out like last year. (huge fillet of open fired fish). We would walk some days to El Pueblito for lunch. We always managed to arrive before opening, but Mariana always served us. Being a people watcher, I observed cart after cart drive by and never so much, as a glance up towards El Pueblito's open air restaurant. The beauty of the sea must captivate them. I don't think many people know where this fine restaurant stop is and it has a great view. They needed a sign sea-side of the road.
El Pueblito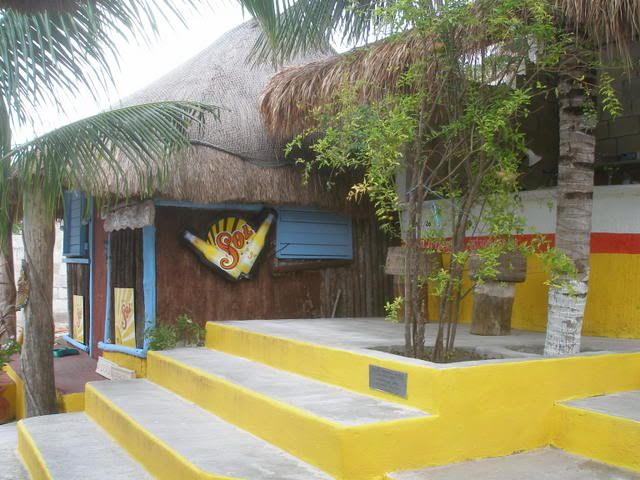 I paid pretty good attention to everyone of Isla board comments, about where to eat, road food, new places etc. and wanted to try them all. PP's was one of these places. Went there for lunch and it was great and very reasonable. 2 Cervesa, Orange juice and good Guacamole/ tip $7.50.
PP's Restaurant is located south side of basketball court.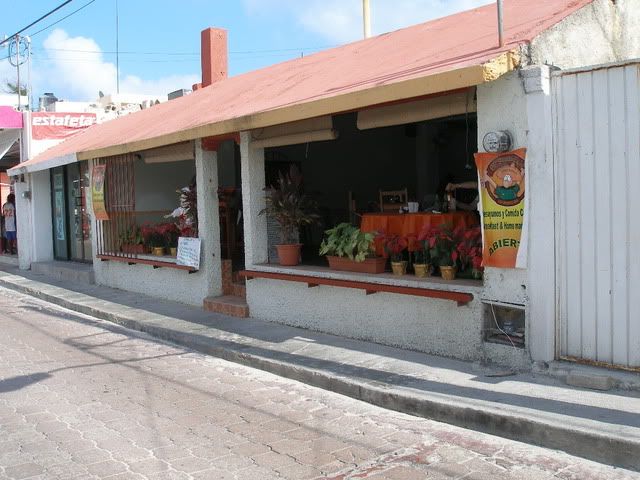 French Bistro is always high on my list of places to eat.
We had some disappointment but it is still better than most.
We had a couple of excellent meals at Bally-hoo .
Bally-hoo sits out on a dock.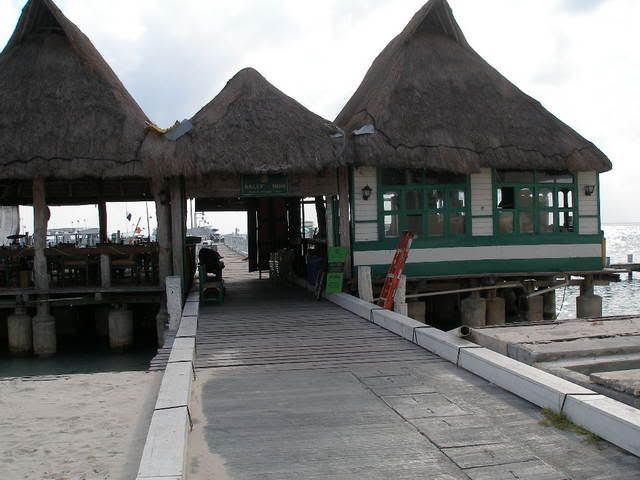 Alexia y Geovanny, one of the 4 market restaurants always gets great reviews and we have ate there many times. This time we opted to try the others. We had one of the best meals of our trip at the 3rd Loncheria - Carolina. What! nice people run this place. They were kind enough to pose for pictures.
Carolina Loncherio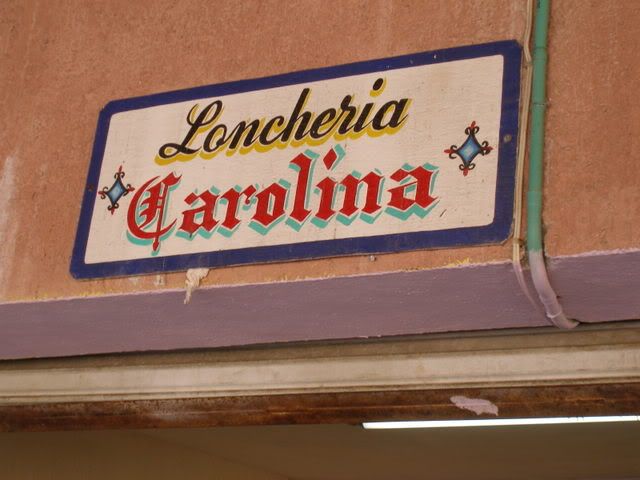 The owners and cooks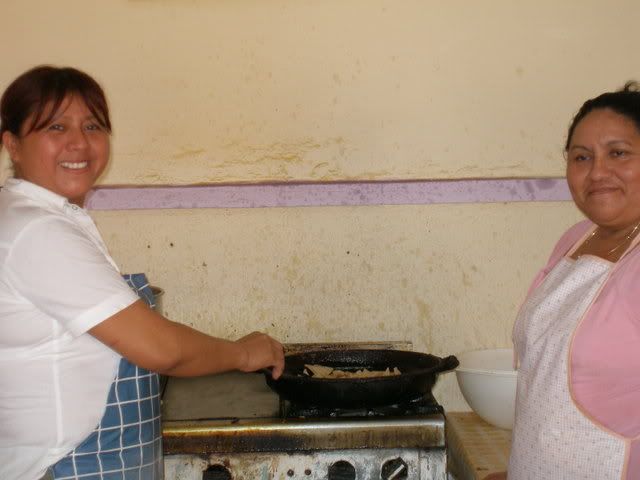 Our worse meal of our trip was at El Veradero- the Cuban Restaurant. It was a short two block walk from Chac-Chi, but not worth the plate it was served on. Tasted, like they spilt the vinegar or tried to cover up the strong pork taste.
Great to sit and watch the boats go by, though.
El Veradaro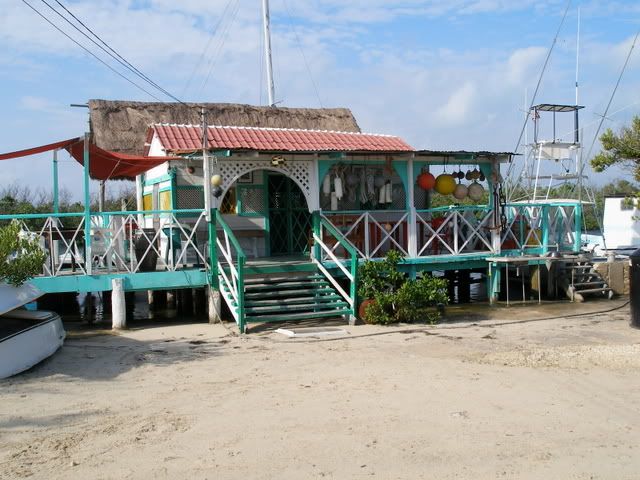 Here is the back side doesn't look impressive but it really is quaint sitting almost on the water.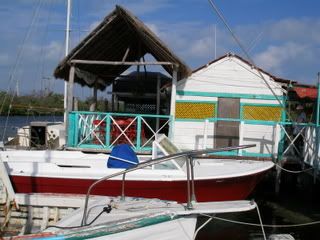 Penquinos has a great view, perfect for dining, but
our worst breakfast was at Penguinos, toast came unbuttered 20 mins before the scrambled eggs and the eggs were cold and had to be sent back for nuking.
I am sorry, but I am tired of giving lip service to mediocre food or poor service without a smile. Some of the places need to pull up their aprons.
Nice view though, from Penguino's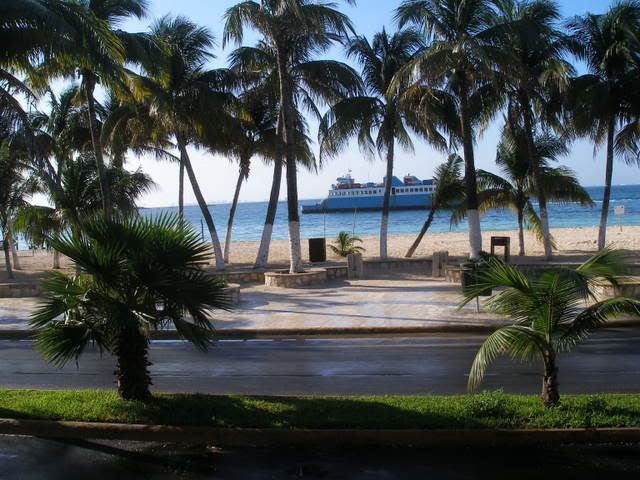 The first week after New Years, the island seemed to swarm with people. The outgoing ferries were lined up clear down the street.
Ferry lineup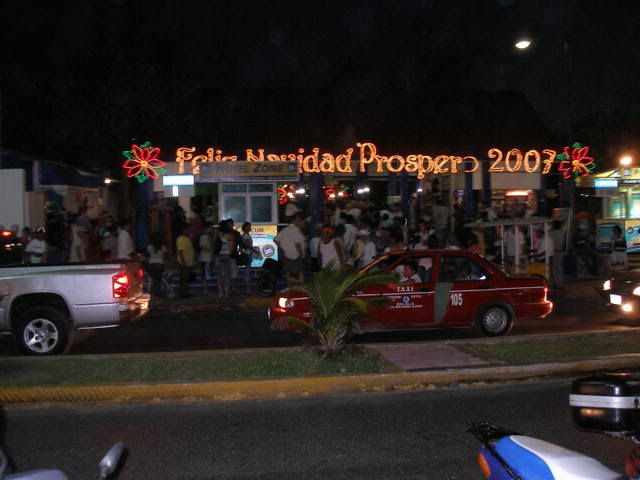 It was very windy and the water was pretty stirred up, didn't make for very good snorkeling.
We moved to Mar y Sol the second week and rented a golf cart mainly because of the tired and blistered feet, and also, to pick up friends (GJAJ, otherwise known as Punch & Judi from Rhode Island).
Mar y Sol:- the old and the new building.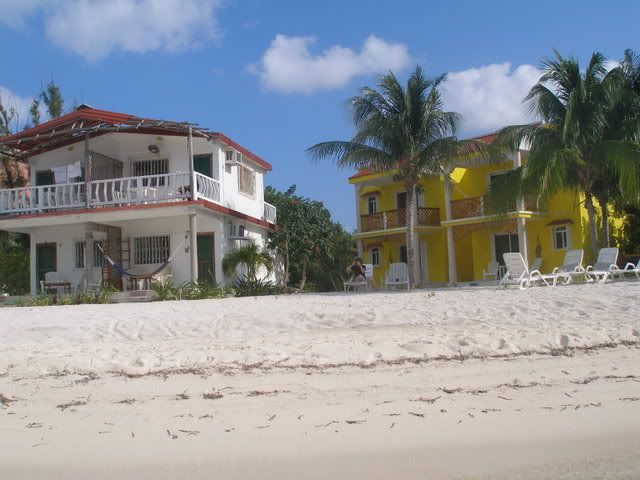 New building.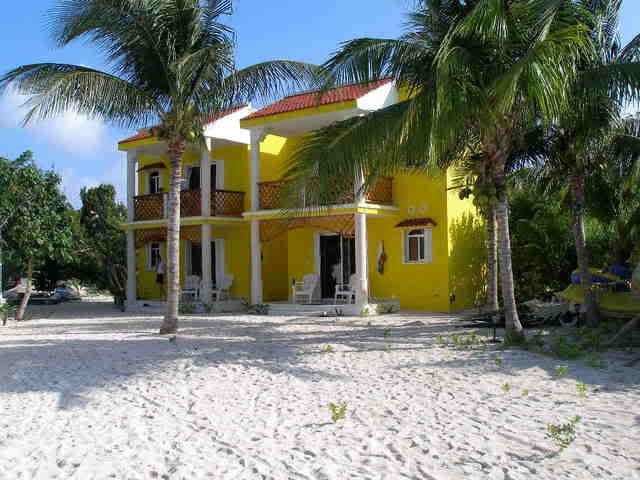 We also had friends come in from Texas so we met them also at the ferry and transported them to Mar y Sol. It was their first vacation to Isla. What a wonderful couple of weeks, we all had.
View of Mar y Sol beach.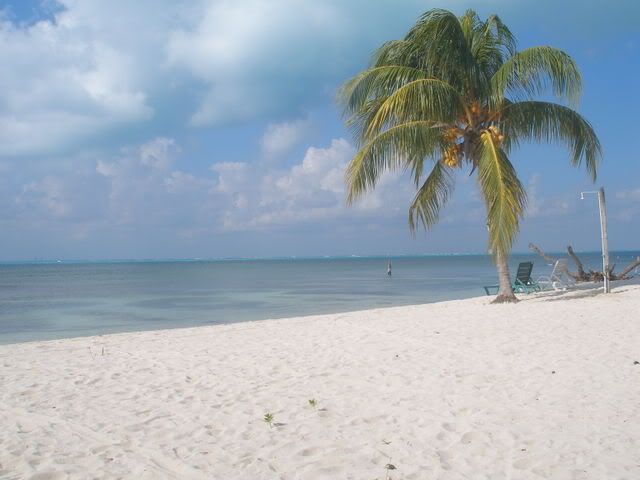 Sunsets were not the greatest this year due to overcast skies.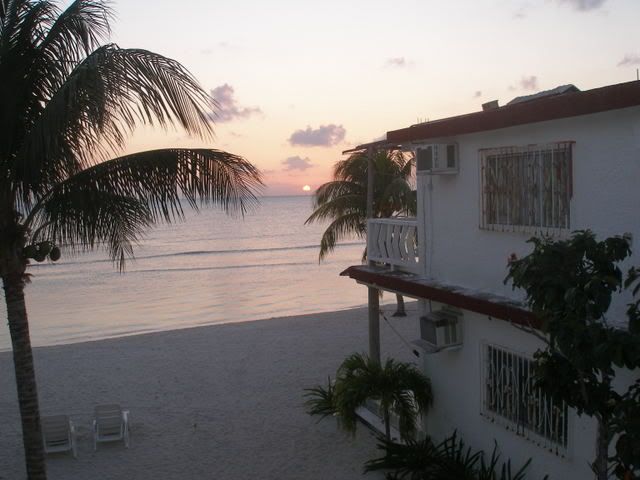 Sunrises were nice when we managed to see them.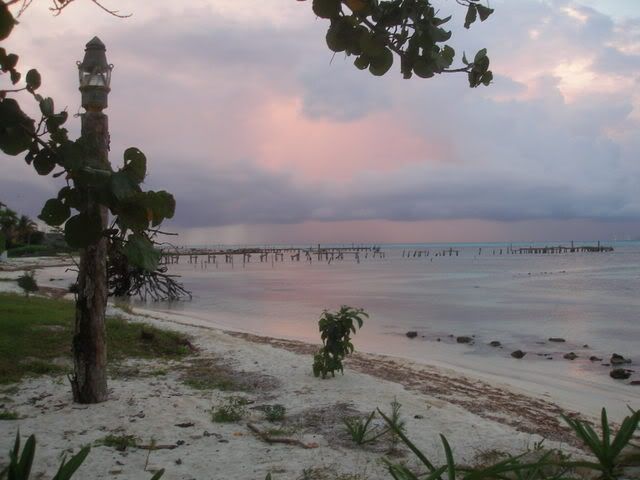 We became friends with other residents also, one big happy family.
Accept, for the lady that blasted us for talking on the balcony before 8am. I guess when you come in after 1am, you need beauty sleep. She never did show her face after that outburst and only stayed a couple of days.
I fished most mornings off the pier at Playa Indio's. A lady that stayed at our complex gave me some beef jerky, and it was hot bait for fishing. I had all the fishing, my system required. To me! It is not the size of the fish but the quality time spent fishing.
I did catch some fish.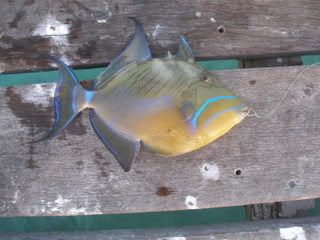 Shark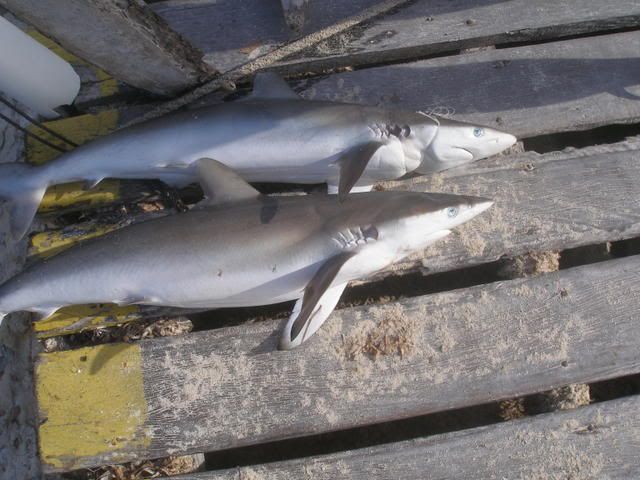 The people at Playa Indios are wonderful people and they will cook up any fish caught. Shark is very tasty.
We rented our Golf cart from them and their prices were the best.
Playa Indio's - stop in for a beer. very friendly people.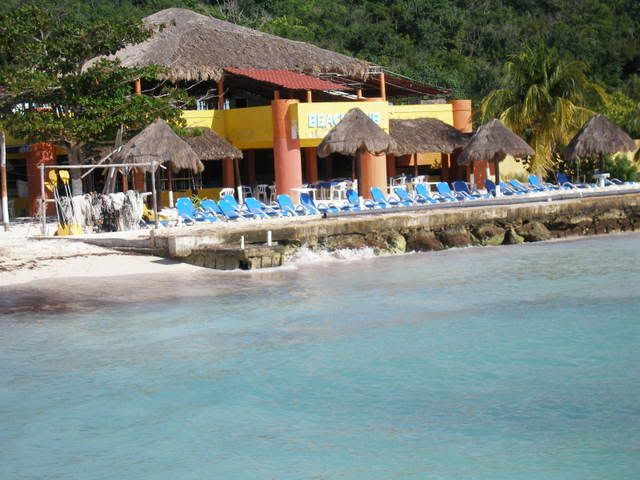 We visited friends from Red Deer Alberta that were staying at Crystal Mar. We met them a couple of years ago on Isla. Seems, Isla, is the place to make new friends, as long as you keep it down before 8am.
Crystal Mar pool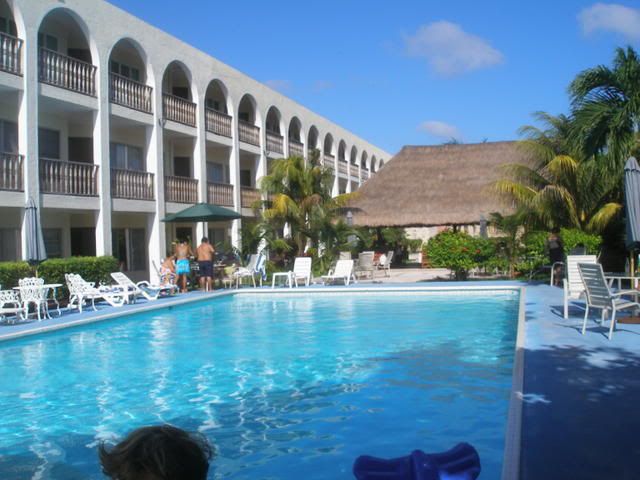 Most nights we would walk to the Zocalo (city square), check out the lights or have flan from the street vendor. I must comment on the Zocalo………it is not the wonderful place it was, but….when the fountain was on, which wasn't often; the kids had a ball getting soaked.And that is what is important. Note:-(the Zocalo was rebuilt and not as quaint as it was, too modern)
Zocalo fountain, keeps changing colours.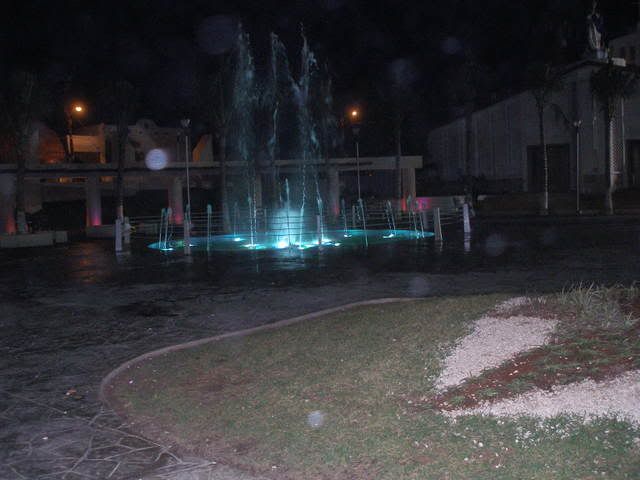 Check out the ice cream shop on Madero(it has the best cones). Don't eat ice cream from the bike vendors (it is ice water with flavoring) and not purified either. Wife and I both got sick from the same shared cone. She bought it, didn't like it and of course, I finished it. Only time, I have ever had the Hershey squirts in Mexico. Immodium, great stuff.
Some notables:-
Lunch at Mananas, wonderful.
Why did we forget all about Zama's Beach Club? A wonderful place to spend a day, a good reason to go back..
Squatter Village is still on the east side-south. Same problem as our local Indians, they want free land. Only they are more peaceful.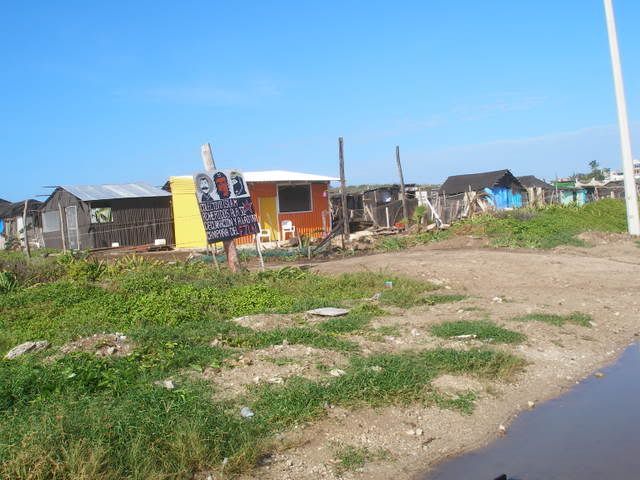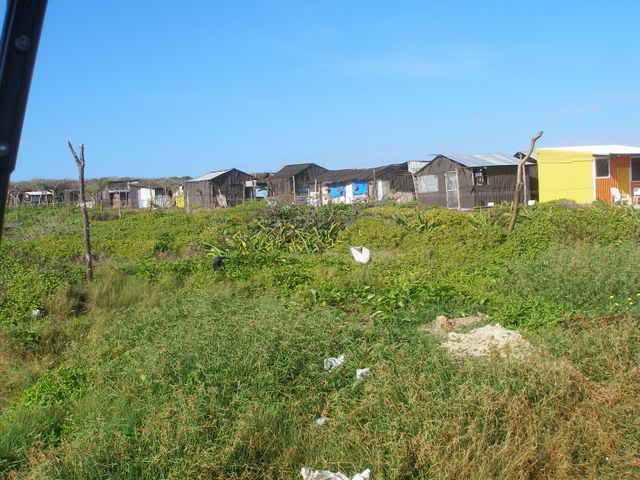 What is there to do on Isla accept lay in the sun, snorkel, fish, or eat? Kind of a tough decision.
Of course, being a Bikini Inspector required some degree of work.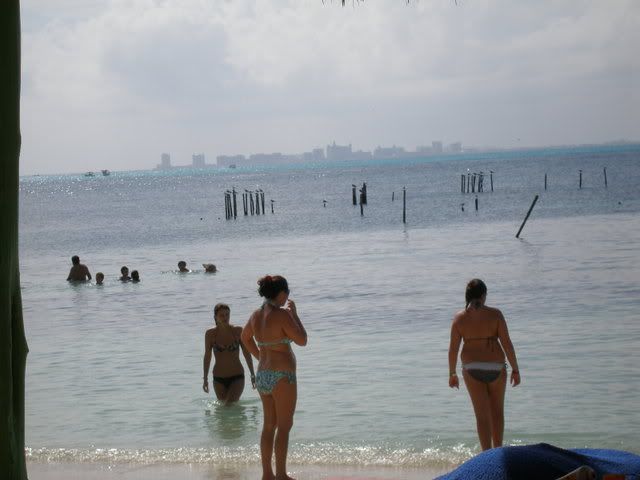 I need a new career.
A person could go for a pole dance at Bronco's Strip Club. It was only a block from where we stayed at Chac-Chi. That falls under the category of forget it….the wife is with you.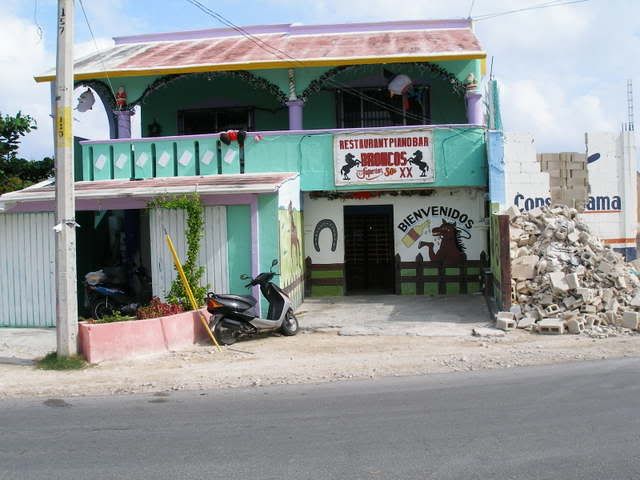 I managed to read 5 books in the shade and lost 4lbs. Sure wasn't from the lack of eating out and enjoying all the good food. Probably the walking but maybe I was down a pint. Cervesa doesn't stick to the ribs.
Garrafon – pay to play.
Garrafon Zip Line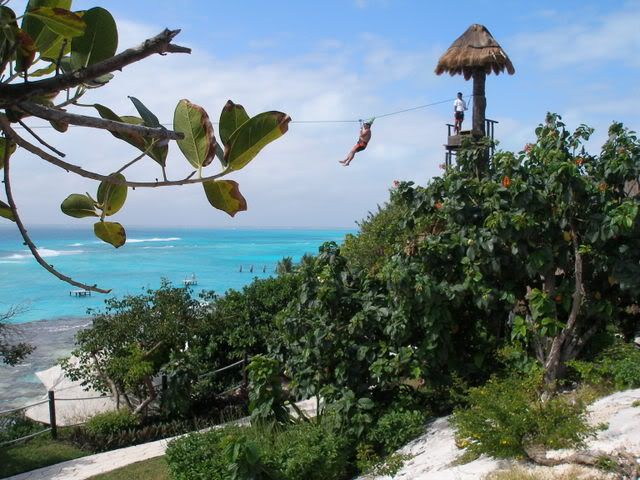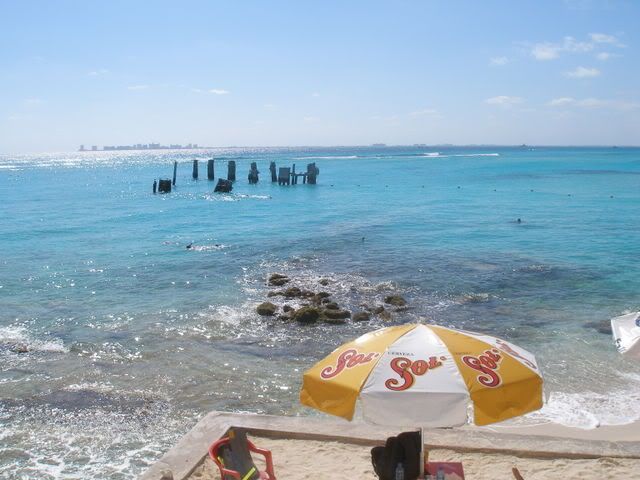 Hildago store keep wanted his picture taken.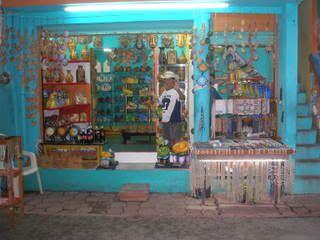 Punta Sur – the south end of the island.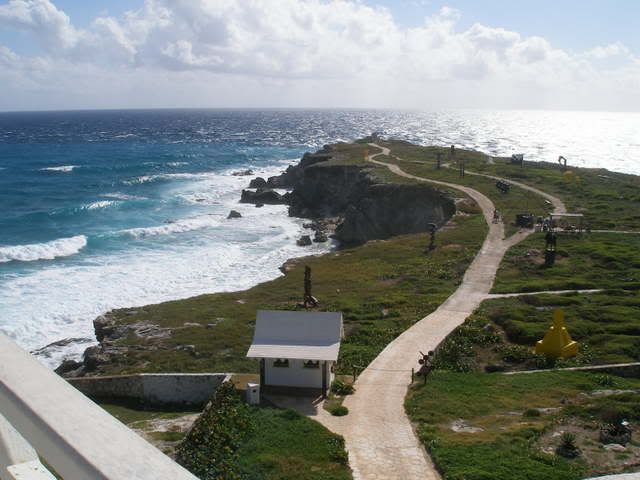 After the hurricane last season, Punta Sur has most of its walk way intact. It was a little shorter heading towards Garrafon.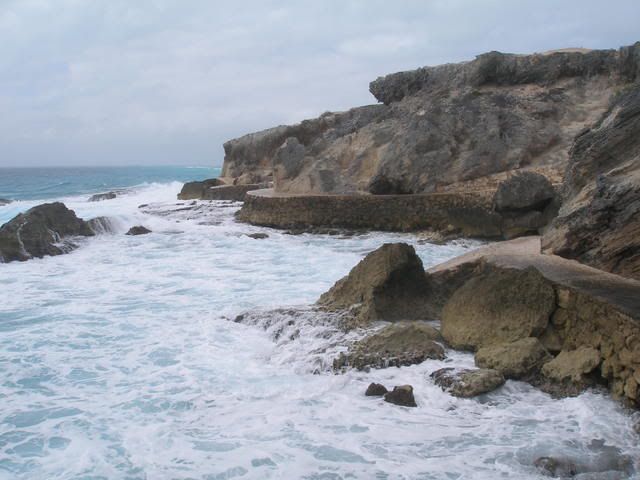 Punta Sur walk.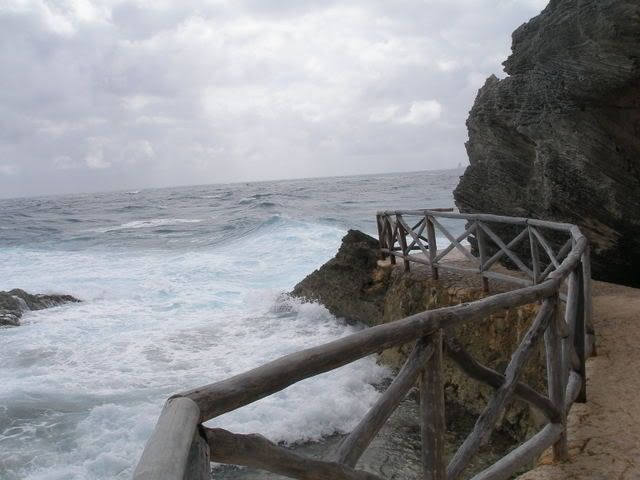 Raging sea due to windy conditions.